Dining Sites offer food, friends, and fellowship
The Congregate/Senior Dining program typically provides hot, well-balanced meals at multiple locations. Participants enjoy good company and wholesome food as well as educational and entertaining activities.
Dining sites are located throughout Ingham, Eaton, and Clinton counties.
Well-balanced meals are prepared from fresh, nutritious ingredients.
Sites may offer occasional recreational programs (Cards, Bingo, etc.) and/or informational programs on subjects of interest to older adults.
Participants may wear a mask at the dining sites if they choose to do so.
Meals can be ordered for carry out at any location.
Adults who are age 60 and over are invited to attend. Spouses of those over 60 are welcome to join them regardless of age.
Individuals with a disability who reside in an apartment building hosting a dining site may also participate. Please call one day in advance to reserve a meal.
A donation is suggested for eligible persons. Persons not eligible may purchase a meal.
MEAL PICK UP SITE INFORMATION
For older adults who are uncomfortable or unable to visit a dining site, there is frozen meal pickup availability. The list below indicates locations that are offering weekly meal pick up. For the latest information, check back here or call the Community Nutrition Manager at 517-887-1393.
Meal pick up must be arranged in advance by calling at 517-887-1393 to schedule a pickup appointment. Callers will be asked to give their name, phone number, address and birth date. The only qualification is to be over 60 years of age or providing primary care for someone age 60+. Please make sure you have a way to heat the meals, microwave is preferred. Special arrangements may be available to those that cannot heat the food, and for those unable to get to a pick up location.
Clinton County:
St. Johns: Clinton County Senior Center, 201 E. Walker St
Ingham County:
Lansing: TCOA Central Kitchen-5303 S Cedar St, Bldg 1
Okemos: Meridian Senior Center at Chippewa MS – 4000 N Okemos Rd
Eaton County:
Charlotte: Lawrence. Ave United Methodist Church, 210 E. Lawrence Ave
Grand Ledge City Hall: 310 Greenwood
Clinton County
DeWitt
Tuesdays at 12:00 Noon
Phone: 517-887-1393
St. Johns
Tuesdays & Fridays at 12:00 Noon
Phone: 989-224-4257
Ovid-Elsie Area
Tuesdays & Thursdays at 12:00 Noon
Phone: 517-887-1393
Eaton County
Delta 39er's
Mondays, Wednesdays, Fridays at 12:00 Noon
Phone: 517-484-5600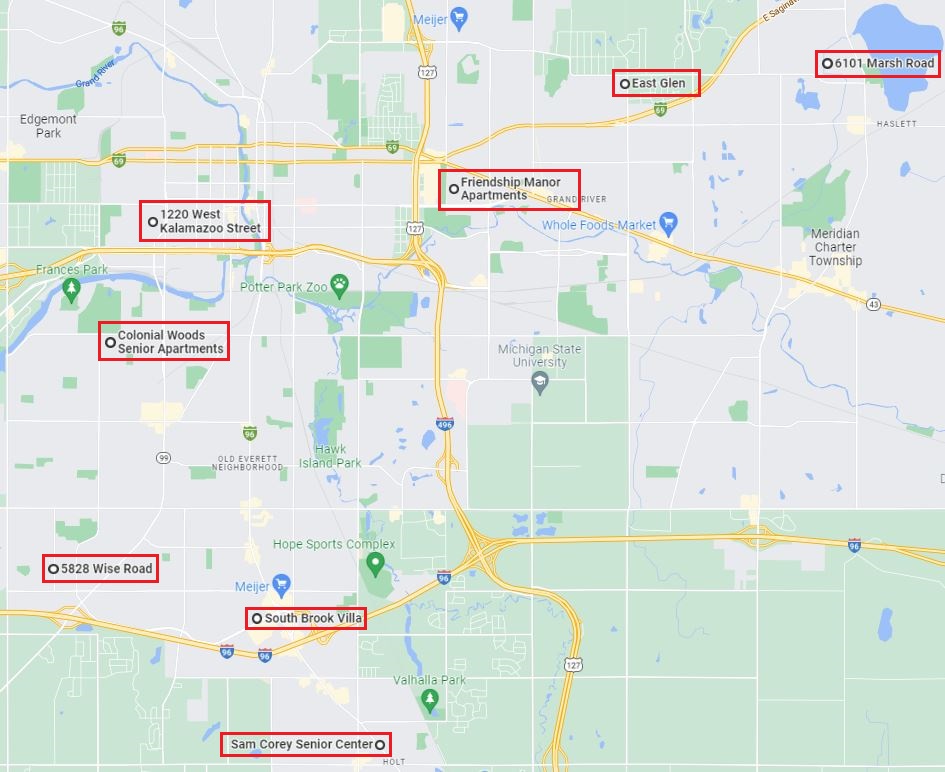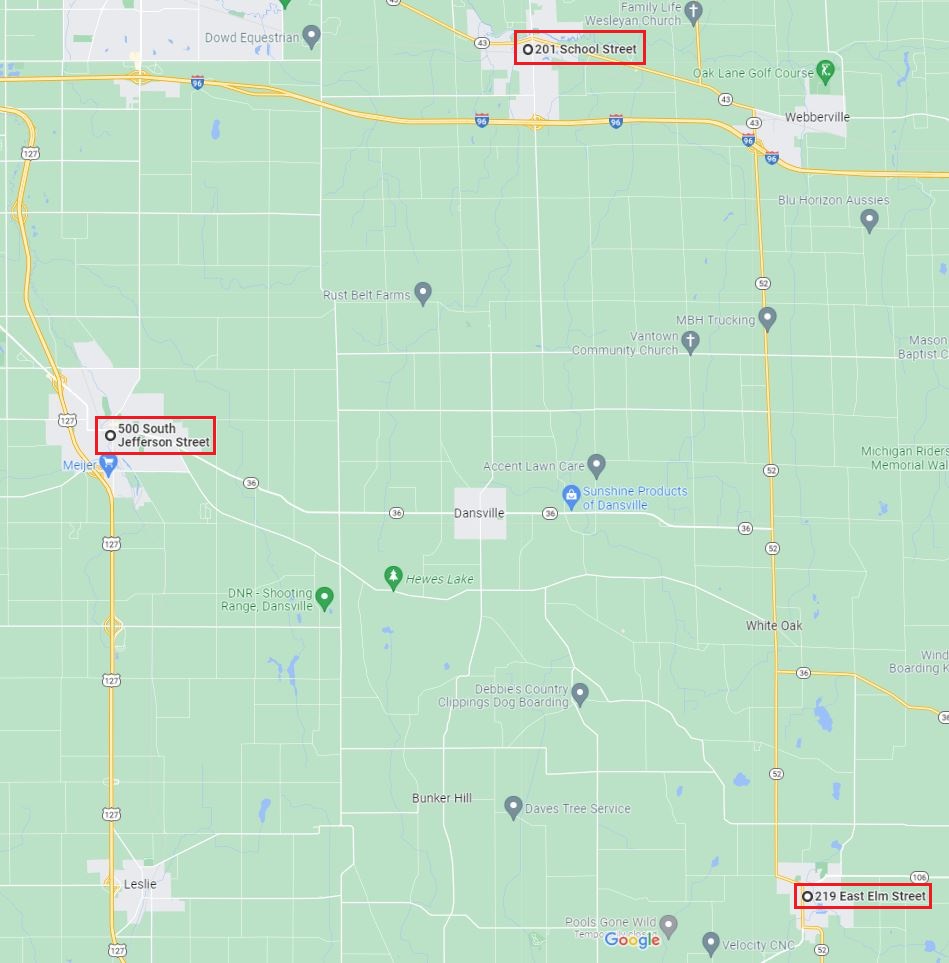 Ingham County
Colonial Woods
South Brook
East Glen
Williamston
Friendship Manor
Haslett/Grange Acres
Holt/Sam Corey
Mason/Jefferson Square Apartments
Alfreda Schmidt South Side Community Center
Stockbridge Senior Center
Letts Community Center